Our products
Browse catalog of our products
IPmux-24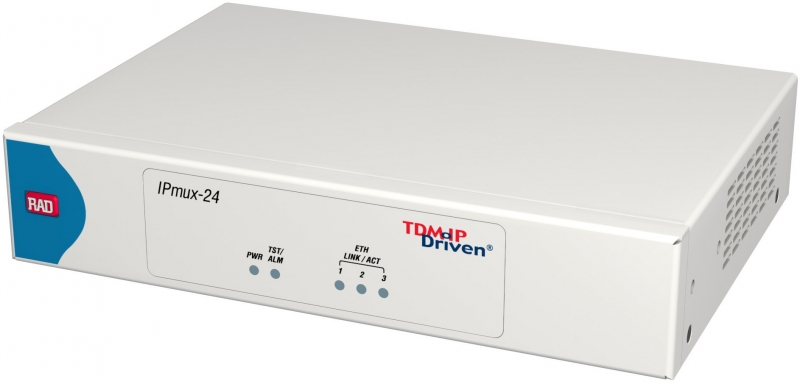 ---
IPmux-24 provides legacy services over packet networks. The device converts the data stream from its user E1/T1 ports into packets for transmission over the network. These packets are transmitted via the IPmux-24 Ethernet network port to the PSN. A remote pseudowire device converts the packets back to their original format. 
Highlights
Comprehensive support for pseudowire/circuit emulation standards including TDMoIP, CESoPSN, SAToP, CESoETH and HDLCoPSN
Industry-leading adaptive clock recovery mechanism suitable for cellular backhaul over packet-based networks
Carrier-class/environmentally hardened device
Extensive OAM and performance monitoring capabilities
Three auto-detecting Gigabit or Fast Ethernet SFP- or UTP-based ports, and one, two or four TDM service ports
TIMING AND SYNCHRONIZATION
Simple Network Timing Protocol
IPmux-24 employs Simple Network Time Protocol (SNTP) for propagating and receiving time information on a network, according to SNTPv4 (RFC 4330)
requirements. SNTP is used to configure data and time by learning the information from a single or multiple SNTP servers. The clock can be configured to a local time by defining UTC and DST offsets.
Pseudowire Timing
End-to-end synchronization between circuits is maintained by deploying advanced clock recovery mechanisms. Clock recovery conforms to G.823 and G.824 traffic interface using G.8261-defined scenarios.
Advanced clock recovery conforms to G.823 synchronization interface using G.8261-defined scenarios and achieves 16 ppb clock accuracy.
The system clock ensures a single clock source for all TDM links. The system clock uses master and fallback timing sources for clock redundancy. IPmux-24 also provides system clock input and output via an optional external clock port.
---
Other products