Meie tooted
Sirvige meie toodete kataloogi
MiTOP-E3/T3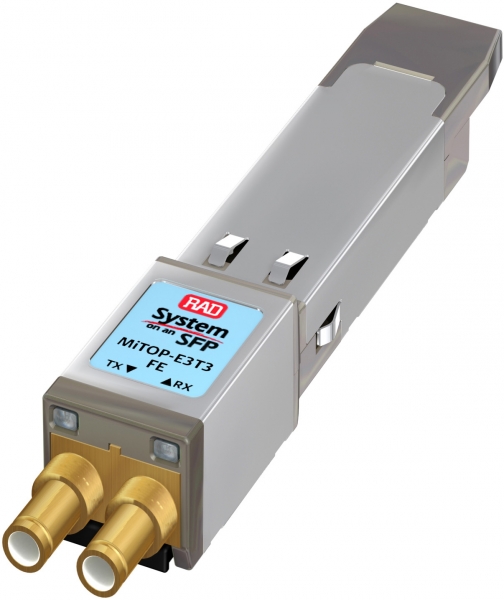 SFP-Format TDM Pseudowire
---
MiTOP-E3/T3 is a TDM pseudowire (PW) access gateway extending E3/T3 services over packet-switched networks. Housed in a Small Form-Factor Pluggable (SFP) enclosure, it is designed for quick and simple insertion into any 100/1000BaseFx Ethernet port with an MSA-compatible socket. MiTOP-E3/T3 is a simple and cost-effective alternative to external, standalone gateways or conversion cards for each user device, saving on space, power consumption, cabling, and simplifying management.
MANAGEMENT
The units can be managed using different ports and applications:
Out-of-band via the I2C channel (of the SFP edge connector)
Inband via the Ethernet port, using a Web browser.
To facilitate integration of a new device into an IP network, if no IP address has been manually configured, MiTOP-E3/T3 automatically requests one from the DHCP server upon booting.
Management traffic can run over a dedicated VLAN.
Application software can be downloaded to MiTOP-E3/T3 via:
SFP-CA unit, using YMODEM protocol
Central server, using TFTP.
---
Muud tooted